TrainingFolks Reaches Out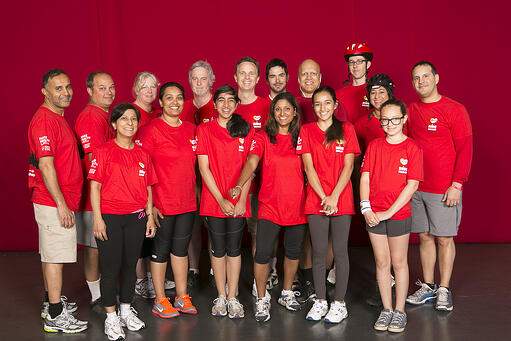 Last weekend, the team here at TrainingFolks banded together to help extend the lives of Canadians by participating in Becels RIDE for Heart.
The funds raised will be used to support life-giving research, social change programs and health information initiatives, moving the Heart & Stroke foundation closer towards its ultimate goal of eradicating heart disease and stroke.
FACT:
Heart disease and stroke take 1 in 3 Canadians before their time
Heart disease and stroke is the #1 killer of women.
Childhood obesity has tripled in the last 30 years, affecting the future health of our children
Heart disease has touched the lives of everyone in some form, whether individually or through a family member or friend; 9 out of 10 of us have at least one risk factor for heart disease or stroke.
Gillian Blair, a senior instructional designer here at TrainingFolks, had a personal motivation to participate in the RIDE this year. Gillian lost both her brother and father to heart conditions. Her mother experienced a stroke about 17 years before losing her battle to another condition. During this time, Gillians mother became an inspiration as she worked hard towards a full recovery. "This RIDE is a great tribute to not just those that we have lost, but also to those who are still going strong" Gillian says as she thinks of her family.
With a set goal of $4,500, TrainingFolks exceeded this aim by raising over $5,000!!
TrainingFolks is a global provider of custom learning solutions, instructional design services, training consultants, and contingent workforce services. Combining award-winning adult learning experience with a proven engagement methodology that includes a talented network of learning professionals, we collaborate with you to implement change