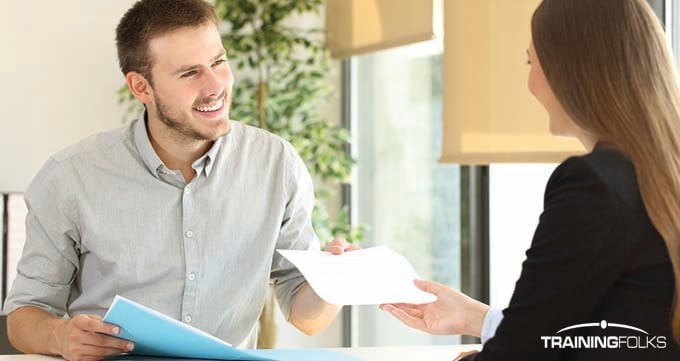 TIPS FOR CONTRACT TRAINING PROFESSIONAL SUCCESS
You've likely heard the statistic that a recruiter only spends about six seconds to decide if your resume is worthy of a phone call or email to you. As a Learning and Development Professional, you can take your resume from good to great and stand out from the crowd, by following these guidelines:
Use a functional resume to emphasize your competencies versus job experiences (chronological) if your resume is over four pages or if you have more than 15 years of experience listed.

The ideal resume length is two to three pages. One page is too short, and the absolute maximum (but not recommended) is four pages.

Use a sans serif font such as Calibri or Arial in a size that is clear and easy to read, 11 or 12-point.
Now that you have the format, here are seven key elements to include in a great Learning and Development Professional resume.

1. Name with Headline

Begin with your name and address including city and state or province – knowing your location helps the recruiter when sourcing local jobs – plus your phone number and email address. For your headline, include your personal brand message, along with three sub-titles to round out your experience. For example, are you a gamification guru, master of microlearning or video virtuoso? List it here.

2. Summary

This is a summary of three to five lines that provides details about your career highlights. This doesn't need a heading. It can include specific experience such as adult training methodologies, needs assessments, and instructional design, the industries in which you have deep knowledge, and specific business processes you understand very well such as sales, contact centers, fulfillment and human resources. This is where you can expand on the special talents listed in your subtitle section.

3. Core Competencies

This section describes your core competencies. It should include three to five competencies such as instructional design, facilitation, learning strategy development, managing the training function, leadership, vendor management, etc. with three to five bullets each.

How you describe these competencies is important – you need to provide "color commentary" and be as specific as possible, giving quantitative and qualitative details – budgets, number of sessions, number of learners, type of work, challenges encountered, etc.

Here are examples of what to do and what not to do.

Don't: Conducted SME interviews.
Do: Managed a group of 10 SMEs in a technical environment across three time zones, conducting interviews to develop training for a national technology rollout.

Don't: Facilitated soft skills training in the financial sector.
Do: Facilitated leadership training to 150 new managers in a major financial institution. Six full-day sessions covered team building topics including developing strategy, setting goals, feedback, and recognition.

4. Technical Proficiencies

In this section, list your experience with software programs such as authoring tools, Adobe Creative Suite, MS Office Professional Suite, Learning Management Systems, SAP/CRM. For each program, be sure to include your level of proficiency – beginner, intermediate, advanced or expert. This will help the recruiter place you in an appropriate role for your skills.

5. Employment History

List your employers, both contract and full-time, with your title and department. For the employment dates, be sure to include the month as well as the year.

Some companies such as Bank of America, Nike or UPS are easily identifiable. If you worked at companies that are not well-known brands, be sure to include a one-line description of the company and industry to provide context. And if you've worked with TrainingFolks in the past, be sure to include those details.

When you're talking about job history, don't leave out your part-time jobs, as a customer service representative at a bank, for example. This demonstrates financial industry experience and that you are familiar with banking products and services should a project in this area come up.

6. Education, Designations, Certifications

Include your formal education with any designations or certifications you've earned. Include relevant classes, seminars, workshops or conferences that are applicable to your work.

7. Industry Associations, Volunteer, Interests

Here is where you can include your membership in associations, volunteer work you've done and your interests and hobbies to provide a more well-rounded picture of your skills.

We understand that updating your resume can be a lot of work. To help you get started, download the TrainingFolks Learning and Development Professional Resume Template.

Once you've polished your resume, be sure to submit it to TrainingFolks. Visit our Careers page, scroll down to scroll down to "Submit Your Resume", click the link and attach it to the email that pop-ups.

Best of luck!