5 Virtual Training Techniques to Improve Learner Engagement
vILT Tips from Your Corporate Training Company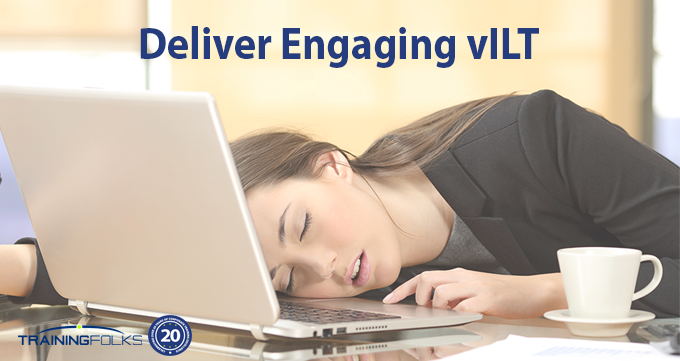 Your learning and development team has moved your in-class instructor-led training (ILT) courses to the virtual classroom and now it's time to deliver. But virtual classroom training is a different experience from in-person. As a virtual trainer you don't have the same visual cues such as people's reactions and body language. Are learners checking email, texting their friends, or falling asleep? And how do you keep learners engaged when they are in dispersed locations staring at their computer screens?

The good news is there are virtual training techniques you can use to improve learner engagement.
1. Get tech savvy
In a classroom training situation, you basically turn on the computer, open the presentation and off you go. With virtual training there are more pieces to manage and you have to multi-task – monitor the chat window, watch for "hands up", scan the polling questions, all while advancing the presentation and teaching the lesson.

Take time to test the technology prior to the training session to ensure you are comfortable with all the features you will be using. In some cases, you may be able to enlist the assistance of an administrator to manage the technical aspects, but that is not always in the budget, so you should be prepared to do it yourself.
2. Establish the ground rules
It can be tempting for virtual classroom participants to work on other projects like catching up on email during the session. At the beginning of the class:
Ask everyone to close all other programs including their email programs and put away their devices.

Show them how to ask a question by demonstrating the hands-up button, chat pane or polling.

If there will be questions or quizzes during the presentation, let them know so they can be prepared.
3. Work the agenda
Setting out the agenda with training objectives and learning points at the beginning of the session is a good practice in any training situation but can be even more important in online training. At the end of each section, refer to the agenda to show progression through the course. You may even want to include a couple of questions to test for comprehension and retention.
4. Limit lecturing
The amount of time people can stay focused on a computer screen is shorter than in a classroom setting. Show don't tell – keep the amount of lecturing to a minimum. A well-constructed virtual training session will have graphics, video and other visual elements designed to educate and entertain. Supplement the material with stories and anecdotes to make the material more relevant.
5. Interact with learners
Since you can't see the participants, there are a few ways you can check that they are paying attention.
Listen for the sound of typing – they may be doing other work.

Ask questions throughout the session.

Use the enrollment list to call on learners by name.
These are just a few virtual classroom techniques for facilitating an online course. Do you use a virtual training technique that has improved learner engagement? Share your story in the comments.
If you company is in the process of moving your classroom course delivery to the computer, download "Taking Training Virtual: 11 Steps for Moving from ILT to vILT". This eBook will help you get the most from your valuable training materials.
If you need instructors or facilitators skilled in virtual classroom training or want to train your facilitators in virtual presentation skills, contact TrainingFolks.