Become the Learning Consultant All Employers Want:
5 Qualities of a Great Corporate Learning Consultant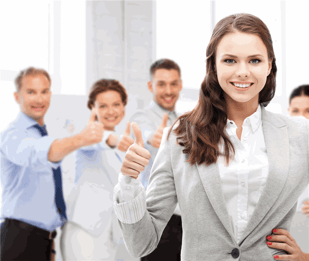 Do you want to hire a top learning consultant at your organization? At TrainingFolks, we know what separates the top performers from the mediocre. Download our Top 13 Interview Questions for a Learning Consultant infographic today!
As a top training company, we have had the opportunity to work with and employ thousands of learning consultants. Find out the top 5 winning qualities that made our top performing learning consultants stand out!
Stellar Communication Skills:
Everything you do as a learning consultant results from communication. You will need to request information, discuss problems, give instructions, work in a team, and interact with colleagues and clients. As a top performing learning consultant, you are viewed as a subject matter expert (SME), and it's required to communicate effectively. This winning quality cannot be stressed enough because without effective communication skills, a message can turn into an error, a misunderstanding, a frustration, or even a disaster by being misinterpreted or poorly delivered.
Immense Flexibility:
The best learning consultants have the ability to adapt to new projects, changing delivery dates, unique work cultures, and travel. They come to work to get the job done correctly no matter what curve ball is thrown their way. Recognizing and embracing flexibility will help you adapt to the shifting dynamics of the workplace.
Keen Time Management Skills:
As a learning consultant you should be continuously looking for ways to adjust your work style to accommodate to the changing timeline, budget, and overall requirements of your assigned project. There is a vast amount of pressure to maintain high quality work within a short time frame and minimal budget. When you learn to take control of your time, you enhance the way you are able to focus. If you want to rise through the ranks as a learning consultant, you need to understand that time management is the key to success. Leaders in the organization will appreciate this winning quality by coming to you when they need to get things done.
A Strong Relationship Builder:
Since learning consultants are in the people business, relationships drive everything. This should be an art that all great consultants master. The foundation for every great relationship with a client is trust. It will be hard for you as a learning consultant to get the results you strive for if the client does not like or trust you. By developing a strong working alliance with your fellow employees and creating an atmosphere conducive to developing a strong sense of teamwork, you will be able to increase morale, productivity, and job satisfaction.
Attention to Detail:
This is a very critical skill for a learning consultant. One of the ways to build trust with your client is to produce error-free deliverables; this will demonstrate that your recommendations are solid. Making sure your work is error-free is essential and reflects on your entire team. A learning consultant's job is fast-paced and the complex tasks can often make it a challenge to pay close attention to the details of every element of your project. The ability to overcome that is what separates the good from the great.