WORKPLACE ETHICS TRAINING
It seems self explanatory. An effective work ethics policy and training program ensures that employees are more aware of their actions and the implications of each action on the business.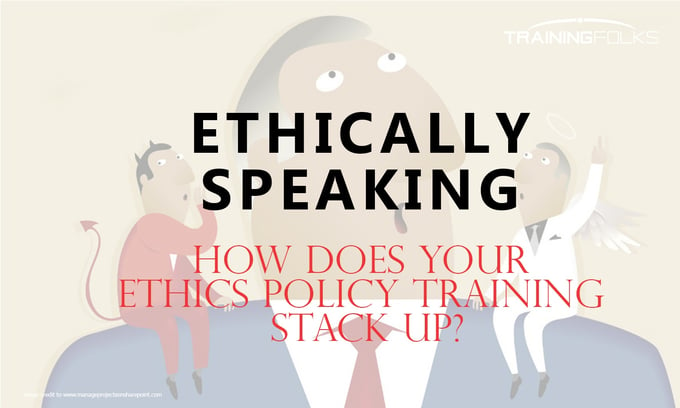 Written by Nisha Amin, Director of Marketing, TrainingFolks
Furthermore, a strong work ethics training program will also clearly outline discouraged behaviors, a process to report infractions to management and finally, what they can expect by way of a process when dealing with anything in the organisation's code of ethics.
The truth is, we have a number of clients here at TrainingFolks that deal with ineffective ethics policies and training day in and day out. Whether it be designing a new code of ethics training program or revitalizing an existing one, we help clients ensure effective ethics policy training programs globally.
When speaking to these clients we usually begin with an overview to understand where their current program stands or what they'd like to see their programs become. A great way to evaluate your current work ethics policy training is to rate your program against some key indicators of supportive or unsupportive activity. Our Free Effective Ethics Policy Checklist is available for Free Download here.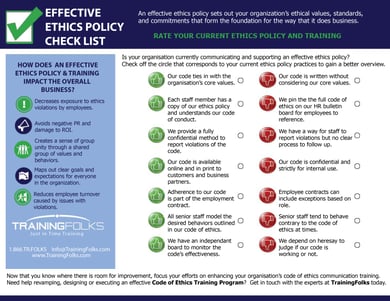 In many cases the problem that our clients or organisations overall deal with are due to external changes and factors which they cannot directly control. The key is to ensure that you stay ahead of these external changes and adapt your training programs accordingly.
Dispersed Workforce
With global offices, many organisations find it increasingly challenging to consolidate their ethics policy and an even bigger task to facilitate effective training of this code. To add another layer, these companies must also incorporate variations as they may pertain to geographic location which then requires the acknowledgement of culture-driven ethics. Whether your workforce is spread across a region, country or the world, having a strong grasp delivering a robust work ethics program is crucial. A great consideration is eLearning which can allow individuals to learn on their one as well as collaboratively depending on the design of your program.
Emerging Millennial Workforce
Ah, the Millennials! Clearly under no control of the organisation, yet a group that will soon make up the majority of the workforce. The workplace values, expectations and behaviors of this unique group vary greatly from the generations before them which needs to be reflected in your workplace ethics program. For example, a recent study reported that 69% of Millennials believe office attendance is unnecessary on a regular basis and 70% have 'friended' their managers and/or co-workers on Facebook. How will your program adjust to these changes as well as account for social media and online interaction outside the office?
Improper Documentation Leading to Exposure
What happens once an employee witnesses a violation of the code? Do they have a clear path of reporting this to their managers? Where does this documentation live and where does it go once submitted? How is the issue monitored, dealt with and further documented for records? All of these steps along the process of an effective workplace ethics program are what can make or break it once designed. These are all key areas to address in the design phase of your training program and something a strong instructional designer can assist with. Many business leaders find this area overwhelming and end up exposing the company to fines for improper documentation or processes.
Taking a proactive approach is the only way to maintain a highly effective ethics policy training program and the impact can affect the business as a whole. There are a number of ways that immediate attention to reviewing your current program can help the business maintain its level of success and continue to grow.

A strong training program will assist in reducing employee violations which in turn could lead to lawsuits against the company.
Negative PR and the inevitable impact on ROI are also key reasons to ensure a clearly defined training program is in place. Remember Volkswagen?

A strong program and training to support it creates a sense of group unity through a shared group of values and behaviors making for a more productive work environment.

A strong workplace ethics program and training process clearly outlines goals, expectations and valued behaviors for those in the organisation. This ensures everyone is following the same path.

Finally, reducing employee turnover means a savings of $3,000 to $18,000 depending on the role that needs to be filled. Ensuring that your ethics policies are in place and communicated clearly will help to alleviate the costs of employees leaving due to issues with violations.
A flourishing business depends on the trust of various parties—employees, managers, executives, customers, suppliers, and even competitors. Ensuring that your workplace ethics training program addresses all of these stakeholders effectively is the key to your success!
If you're looking for some additional expertise to address any of these needs when reflecting on your current workplace ethics training process get in touch today!