Do You Have Flash eLearning Courses to Convert?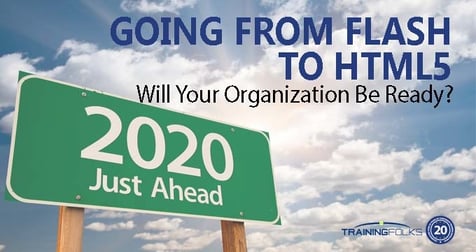 Adobe Flash Discontinued!
For more than 20 years, developers of games, online videos and multimedia eLearning content used adobe flash as their go-to development software. Adobe has recently announced that distribution and support for adobe flash will be discontinued by the end of 2020: https://theblog.adobe.com/adobe-flash-update/
Adobe made this decision based on the fact that open standards such as HTML5, WebGL and WebAssembly are now an integrated part of most browsers. There is currently no real need for an additional plugin like the Adobe Flash Player.
Adobe is working closely with major technology partners such as Apple, Microsoft, Google, Mozilla and Facebook to encourage content creators to convert their existing flash content to one of these open sources. They pledge to continue to contribute to the HTML5 standard and participate in the WebAssembly Community Group. They will also provide tools such as Animate CC and Premiere Pro CC, which rely on HTML5 to create amazing web content.
How to convert flash to HTML5 eLearning
If your company's training materials rely on the Adobe Flash Player, you will need to convert Flash eLearning to HTML5 because Flash eLearning will no longer be supported after 2020.
Your first step in this process should be to take an inventory of all your courses that have flash eLearning components. Separate these courses into three groups.
Relatively new courses that require only a conversion from flash to HTML5 eLearning
These courses should be your highest priority because they require no content changes and can be easily and quickly converted.
Courses that only require a little fixing up
You may want to make them more visually appealing, but there is no real need for major content change.
Older courses that require major content revision
These will be the most time consuming and difficult to update. You may even decide that it is better to incorporate the information into an entirely new course.
Select the courses that you need to convert before the end of 2020 so that your employees will not see Adobe Flash discontinued appear on their screens instead of the course they were expecting.
Your second step is to decide whether you want to convert your courses from flash to html5 in-house or if you want to engage an eLearning partner to help you with the process.
If you decide to use an instructional technologist to convert your courses from a flash to html5 eLearning format, your third step is to find the right people to help you. Choosing the right company in the first place can save you a lot of time, money and frustration down the road. Give careful consideration to the following questions?
Does the company have experience with the type, size and scope of your learning content?

Are their prices reasonable, and can you afford them? Are there any hidden costs?

How flexible are they? How willing are they to make revisions?

Can they get the job done in the period you specify?

Do they have a good rating with the

Better Business Bureau

and their clients?
To illustrate this process consider TrainingFolks. We are a global corporate training consulting company that offers, among other things, custom employee eLearning solutions. We have an A+ rating with the Better Business Bureau and excellent client reviews. We can convert flash eLearning to HTML5 easily and efficiently. We also have a reputation for finishing projects on time and within your budget.
When you chose to work with us, you can expect us to go through steps like the following:
Conduct a needs assessment that will include key dates, budgets and recommendations for the html5 authoring tools that are best suited to your company.

Evaluate your LMS (learning management system) to see what changes need to be made for the new courses to work properly.

Help you through every step of the process. We have expert instructional designers that can help with courses that need a major overhaul.
If you would like to know more about converting your Flash eLearning courses, click the image below.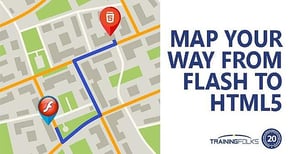 This downloadable resource outlines the seven steps necessary to ensure that you are ready for the end of 2020 when Adobe Flash is no longer available or supported by Adobe.