CONTRACT TRAINER SUCCESS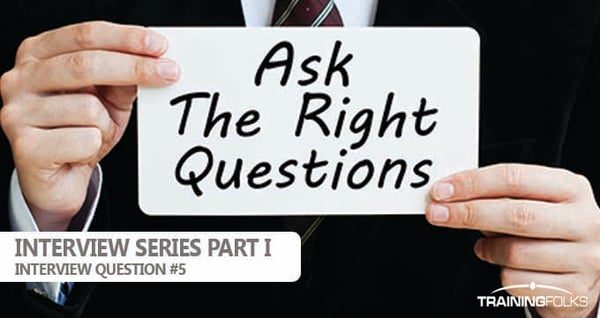 An interview is not only a chance for the hiring manager to get to know you, but also a chance for you to get to know them, the company, and the day to day challenges and responsibilities of the role you are applying for. Asking well thought out questions at the end of your interview demonstrates your strong interest in the position as well as your desire to excel in the role. In contrast, if you don't ask any questions, your interviewer will assume that you're either not interested in the role or that you haven't done your homework.
As a rule of thumb, it's better to ask open-ended questions rather than yes or no questions. You don't want your questions to seem like an interrogation and you definitely don't want to put your interviewer on the spot. Open-ended questions are easier to help keep the conversation flowing and their response may lead to other topics or questions that you hadn't thought of.
When an interviewer asks you if you have any questions for them, here are some things you should avoid saying or asking:
"No, you've already answered all of my questions."
"I don't have any questions at this time."
"How much money can I expect to earn the first year?"
"Can I do this job remotely?"
"What does your company do?"
"Did I get the job?"
"Who should I avoid in the office?"
"When can I take time off for vacation?"
Having a few questions that are insightful and appropriate to ask is a crucial part of preparing for any interview. So what types of questions should you ask?
Here are 5 great examples of questions to ask at the end of your job interview:
What would you say are the most important qualities for someone to have to excel in this role?
Asking this question may give you some more insight as to what the hiring manager is looking for outside of what's listed on the job description. You'll get a better sense of what their expectations are for someone in this position and you'll learn about which skills you should really focus on.
What are some challenges that your organization/department is currently facing?
The interviewer will more than likely have an opinion on the answer to this question which will give you a better sense of their personality and desires for the company. You'll also have a better understanding of some of the challenges they're up against and how your skills can be utilized to help. It could also uncover a red flag that you may want to consider before accepting the job
How would you describe the company's culture?
Knowing a company's culture should be a critical factor in making your decision, if you are offered the job. You are more than likely planning on staying with this organization for the next few years and it's vital to make sure that you're a good fit and comfortable with the culture.
What would a typical workday look like?
This is an essential question because it's important for you to have a full understanding of what your role will look like daily and what tasks would be involved. Of course, this question also shows your interest in the specific role and that you're taking it seriously.
What are the next steps in the interview process?



Asking this question shows that you're eager to move forward in the process and excited about the role. The interviewer should be able to share with you their timeline for hiring so that you know when you should expect to hear back from them and can follow up appropriately.
Remember to be sensitive to the time allotted for the interview and start wrapping your questions up once you're close to the scheduled end time. Always thank your interviewer for taking the time to answer your questions and for sharing role specific information with you.