TrainingFolks named to the 2013 Content Development Watch List!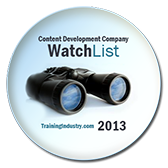 Cary, NC (July 25, 2013) – TrainingFolks, a global provider of custom learning solutions, consulting and contingent workforce services, announces today that they have been selected for the 2013 Content Development Watch List from TrainingIndustry.com. This annual list recognizes the best providers of training services, technologies and content development as it continues to monitor the training marketplace.
Applicants were selected to the 2013 Content Development Companies Watch List based on the following criteria:
Industry visibility, innovation and impact
Capability to develop and deliver multiple types of content
Company size and growth potential
Depth and breadth of subject matter expertise
Quality of clients
Geographic reach
"This year's Watch List includes a combination of growing and mature companies, each providing an innovative blend of solutions to their clientele," said Ken Taylor, Chief Operating Officer, TrainingIndustry.com. "These companies are not only increasing their presence within the training and development space, many are advancing the way that content development is delivered."
"My team and I are honored to have made it to the Content Development Watch List for the second consecutive year," says Matthew Davis, CEO of TrainingFolks. "This accomplishment is in direct correlation to our continued desire to develop and deliver the latest in content development and training to Fortune 1,000 companies from across the world. We are very proud of what we have accomplished over the past 15 years."
"The 2013 Content Development Watch List represent a tier of companies focused on expanding their reach and continuously improving their offerings within the corporate training market," said Doug Harward, Chief Executive Officer, TrainingIndustry.com. "With an impressive selection of initial clients and a range of training solutions, many of these companies are poised for steady growth in the training industry."
For more information on TrainingFolks, please visit www.TrainingFolks.com.