TrainingFolks Ranks No. 3 on the 2013 PROFIT 500 in the Education & Certification Industry
TrainingFolks Ranks No. 222 on the 2013 PROFIT 500 in Canada
- PROFIT Magazine unveils 25th annual list o
f Canada's Fastest-Growing Companies -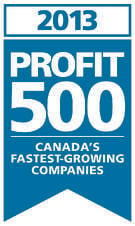 Toronto (June 2013) PROFIT Magazine today ranked TrainingFolks No.222 on the 25th annual PROFIT 500, the definitive ranking of Canada's Fastest-Growing Companies. Published in the summer issue of PROFIT Magazine and online at PROFITguide.com, the PROFIT 500 ranks Canadian businesses by their revenue growth over five years.
TrainingFolks made The PROFIT 500 list With five-year Revenue growth of
281%
.
"To celebrate the 25th anniversary of the Fastest-Growing Companies in Canada, the PROFIT 500 has expanded to recognize the entrepreneurial achievements of more than 500 Canadian companies," says Ian Portsmouth, Editor-in-Chief of PROFIT Magazine. "PROFIT is proud to now showcase Canada's forward-thinking small business entrepreneurs and honour their talents and innovations."
"We are honoured to be among the forward-thinking Canadian companies who made the PROFIT 500 ranking," says Matthew Davis, CEO and Co-Founder of TrainingFolks. "During recent years, we have grown to an unprecedented international capacity through the world-wide delivery of our services. This achievement is a testament to our continued desire to helping organizations achieve their strategic goals."
TrainingFolks is a global provider of custom eLearning solutions, consulting and contingent workforce services. Over the past 15 years, our team of training consultants, facilitators, project managers and instructional designers have collaborate with Fortune 1000 organizations to implement a world-class adult learning experience with a proven engagement methodology.
For more information, visit www.trainingfolks.com.
About PROFIT Magazine and PROFITguide.com
PROFIT: Your Guide to Business Success is Canada's preeminent publication dedicated to the management issues and opportunities facing small and mid--‐sized businesses. For31 years, Canadian entrepreneurs and senior managers across a vast array of economic sectors have remained loyal to PROFIT because it's a timely and reliable source of actionable information that helps them achieve business success and get the recognition they deserve for generating positive economic and social change. Visit PROFIT online at PROFITguide.com.