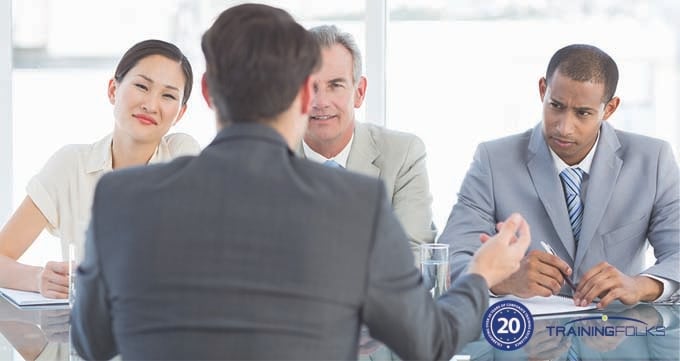 There are many common practices to follow when preparing for a job interview – dressing professionally, researching the company, and sending follow-up thank you notes to your interviewer. However, as a contractor, your job interview conversations may go a little differently than someone who is interviewing for a full-time role.
Here are 5 valuable interview tips all consultants should follow.

Prepare a list of questions
When the interviewer asks if you have any questions, always make sure to have a list of questions prepared as it shows you have a greater interest in working with them. These questions can be about the company's work culture, current challenges they are facing, or even the interviewer's most memorable project. Not asking any questions can make you seem unprepared or even disinterested. On the other hand, asking very specific questions will impress your interviewer with your knowledge and interest in the industry.
Check out the interviewer on LinkedIn
Looking up your interviewer on LinkedIn will give you some insight into the role they play with the company, their career path, as well as a sense of who they are. Reading their profile may even reveal details about the company culture or types or projects that they work on. Do not, however, make the mistake of connecting with the interviewer before you go into your interview.
Greeting etiquette
It's important to remember that it's not only the hiring manager who makes the final decision. We may get so caught up in the specifics of the interview that at times we may forget this. Be friendly and polite to everyone you meet along the way, whether it's the receptionist or the security guard. These could be your future co-workers, so making your best first impression is critical.
Be a good listener
As a consultant, your listening skills are a very important quality. Interviewers will pay attention to the way you respond. Never interrupt your interviewer when they are speaking or asking you a question. Learning to listen and being engaged involves asking the right questions at the right time. Listening to how questions are being presented to you will allow you to answer them more directly and effectively.
Sell yourself
When you go for an interview, make sure you understand the type of knowledge and background the role requires, whether it be experience with authoring tools, technical systems, or a certain audience. Knowing the job specifics will allow you to highlight exactly what you can bring to the table for them. Be prepared to discuss previous roles where you have demonstrated what they are looking for. Share your successes and how you overcame obstacles. The way you talk about your background and experience can be the deciding factor when it comes to selecting the right candidate. Remember, the client is looking for someone who can get right to work and help solve their problems.
For more tips on Contract Training Profession success be sure to follow us on LinkedIn!
To submit your resume, visit our Contract Training Professionals Careers page.