Supply Chain Management
Many companies used to consider the supply chain management operations a necessary cost of doing business and not a key driver of financial results. Today, the importance of a top-flight supply chain management operation is evident. Bottom-line performance has been shown to directly link to the effectiveness of the supply chain management operations.
What contributes to Supply Chain Excellence? The answer requires careful attention to the connection of People, Process, and Technology in the supply-chain management operation. TrainingFolks has worked with global manufacturing, services and shipping organizations with a reputation for identifying improvement opportunities and delivering world-class solutions for the People element of the equation.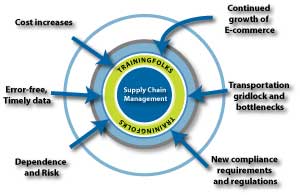 Your organization faces a number of challenges:
Continued growth of e-commerce (B2C and B2B)
Transportation gridlock and bottlenecks
New compliance requirements and regulations
Cost increases (labour, fuel, etc.)
Dependence and Risk (Big Box Stores)
Error-free, Timely data
TrainingFolks' Experience
TrainingFolks understands these unique challenges. We work with you to develop a solution specific to your needs, building on your organization's strengths and directly addressing improvement opportunities. Our customized programs are designed to ensure practical, industry and cultural business applications that are immediately transferred back on the job.
Our approach starts with a targeted assessment designed within the context of your mission, vision, values, strategies and goals. Our programs are designed your organization's operational environment in mind. Our designs include powerful experiential methodologies such as Action Learning to ensure a direct impact on your specific work-related challenges and issues. TrainingFolks specializes in performance improvement for both Frontline Leaders and Mid-Level Managers. Our programs have included:
Frontline Managers
Coaching
Time Management
Communication Skills
Team Building
Conflict Management
Performance Measurement
Effective Shift Meetings
Mid-Level Managers
Leading People
Productivity Management
Running the Business
Managing High Performance
Problem Solving & Decision Making
Environmental Health & Safety