Why Behavioral Style Affects Business Training and Development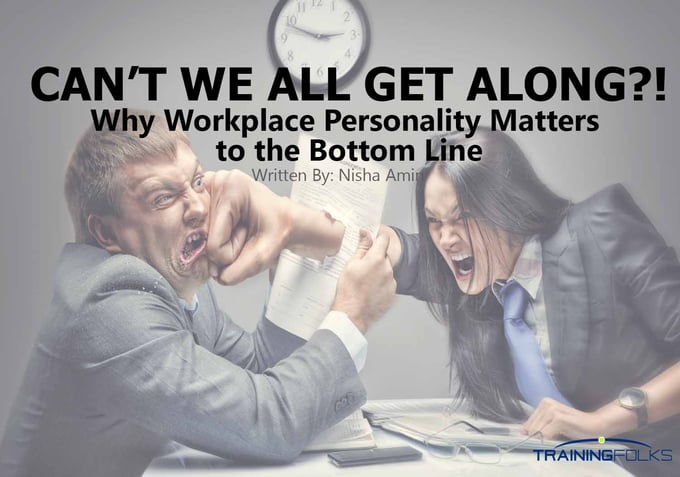 There's nothing worse than walking into the office on a Friday morning with a cup of perfectly brewed coffee and the completion of an upcoming project in sights and finding one of your team members waiting to speak to you about leaving the company.
As you talk through why the sudden move, you realize it really isn't that sudden and that as team leader you saw the signs but simply didn't know how to address them. The employee tells you that she has always been very frustrated. She expresses that she felt like no one was listening to her input and that she was tired of having to speak over another team member that seemed to steer the team one way even when her numbers showed the need to consider others.
Does this sound like something you've dealt with? Losing a great employee because you didn't know how to reduce their workplace stress? Perhaps a situation where a team member expresses the frustrations of not being heard or perhaps grievances both formal and informal from team members about the communication style of a colleague?
So what does a business leader do in this situation? In many cases, they simply chalk it up to turnover and give HR a call to post a new position. The real issue however, is something that an effective leader can actually target and prevent!
Research shows that 60-80% of all difficulties in organizations come from strained relationships between employees, not from deficits in individual employee's skill or motivation.[i]
To get even more specific, the real issue for many organizations is workplace personality types. Many business owners and leaders don't quite grasp the importance of personality assessments and how in today's marketplace more than ever, technology, global offices and generational gaps in the workforce impact workplace personality more than ever.
Perhaps looking at hard numbers can help shed some light on the importance of behavioral assessments!
At TrainingFolks, we specialize in addressing these and other workplace issues with Everything DiSC® Workplace.
As an authorized partner, our training experts are equipped with the tools to first, help each employee clearly understand their own workplace personalities, second, help you as a manager understand your personality as well as your team's and third, to provide a great overview of the team as a whole.
Understanding how to communicate, how to motivate, how to reward, how to task and how to lead employees with varying workplace personalities are all essential to a productive workplace environment and overall success of the business.
Learning more about how Everything DiSC® Workplace can positively affect your workplace training and development is step one.
Download a free smple profile here and then get in touch with one of our experts who will walk you through the benefits of Everything DiSC® Workplace and your unique business need.
[i] Daniel Dana, Managing Differences: How to Build Better Relationships at Work and Home (2005, 4th ed.); Barbara J. Kreisman, Insights into Employee Motivation, Commitment and Retention (2002)
[ii] (Washington Business Journal, May 2005).
[iii] (US Bureau of Labor Statistics)
[iv] (National Committee for Quality Assurance, 2002)