TrainingFolks to Exhibit at the 2014 CSTD Conference & Trade Show - Toronto, Canada Nov 12-14th
Come visit us at the CSTD Trade Show in November 12-14th in Toronto, Canada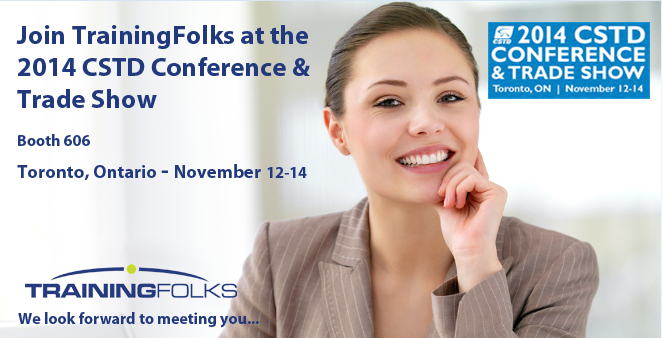 TrainingFolks to Exhibit at the 2014 CSTD Conference & Trade Show
Our TrainingFolks team will be exhibiting at booth 606 at the prestigious CSTD Conference & Trade show being held at the Metro Toronto Convention on November 13th and 14th, 2014. We at TrainingFolks share a commitment to providing word-class custom learning solutions, consulting, and contingent workforce services wherever and whenever they're needed. We look forward to the opportunity to meet with you to discuss your business needs and how our training solutions can be of service.
Why Attend the 2014 CSTD Conference & Trade Show?
Join fellow learning and development professionals at the 2014 Canadian Society for Training and Development (CSTD) Conference and Trade Show for three days of unequaled discussion, learning, and discovery.
At CSTD's Conference & Trade Show you'll connect with over 1500 workplace learning professionals from across Canada as you exchange ideas and share solutions. The largest Canadian gathering of its kind, the CSTD Conference offers a compelling program of research, case studies, and thought-provoking keynotes sessions presented by industry experts.
Want to join TrainingFolks at the conference?
Want more Great Insight on the training industry?