TrainingFolks named to 2017 Training Outsourcing Companies Watch List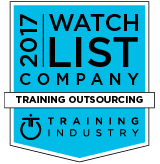 TrainingFolks has been selected by Training Industry as part of their 2017 Training Outsourcing Companies Watch List, the sixth consecutive year the company has received this honor. This annual list ranks and recognizes the top training consultant companies.

As part of its mission to continually monitor the training marketplace and identify the best providers of training services and technologies, Training Industry publishes this annual list. Companies are selected based on the following criteria:
Innovative service offerings

Ability to provide services on a global basis

Unique and proven approach to business process outsourcing (BPO) solutions

Profile of clients
"The companies included in Training Industry's 2017 Training Outsourcing Watch List excel in providing well-rounded and innovative learning services across all industries in the L&D marketplace," said Ken Taylor, president, Training Industry, Inc. "They represent a combination of several emerging companies and several targeted, established companies, all of which are capable of providing a range of outsourced services."
Matthew Davis, CEO and Co-Founder of TrainingFolks is pleased the company has been recognized as one of the top training consultant companies for the sixth straight year.
"As TrainingFolks is celebrating our 20th year in business, we are honored to be part of this exclusive group and thank Training Industry for the recognition," said Matthew. "We also wish to say thank you to our clients, and to our employees and partners who help us deliver the highest level of service."
If you need help with your training program, contact the experts at TrainingFolks.