TrainingFolks is a Company to Watch for Content Development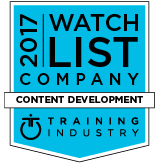 For the sixth consecutive year, TrainingFolks has been selected by Training Industry as part of their 2017 Content Development Companies Watch List. Training Industry publishes this list each year, as part of its mission to monitor the training marketplace and identify top providers of training services and technologies.
Companies are selected for the list based on the following criteria:
Industry visibility, innovation and impact

Capability to develop and deliver multiple types of content

Company size and growth potential

Depth and breadth of subject matter expertise

Quality of clients

Geographic reach



"This year's Watch List includes an exciting group of companies pushing the development of new programs to deliver impactful improvements in employee performance," said a Training Industry spokesperson. "Each of these organizations has impressive capabilities that can improve employee learning in corporations around the world."

Matthew Davis, CEO and Co-Founder of TrainingFolks is thrilled the company has been named to the list for the sixth year in a row.

"This year we are especially happy to see our clients achieve great results by adding microlearning, gamification, and other leading adult learning technologies into their training experiences," said Matthew. "Thank you to Training Industry for this recognition. As we celebrate our 20th anniversary, we would also like to thank our clients, and our employees who continue to deliver outstanding training content."

If you need help with your training content development, contact the global experts at TrainingFolks.