Top Training Company Recognized for Business Excellence
The Better Business Bureau has once again accredited TrainingFolks with an A+ rating, the highest possible rating for its expected interaction with customers. This is the sixth year in a row the corporate training experts have been recognized by BBB.
TrainingFolks is a top training company and a global provider of custom learning solutions, consulting and contingent workforce services, celebrating its 20th anniversary in 2017.
The overall evaluation is based on reaching a number of accreditation standards set by the BBB. These standards include:
Build Trust – Establish and maintain a positive track record in the marketplace


Advertise Honestly – Adhere to established standards of advertising and selling


Tell the Truth – Honestly represent products and services, including clear and adequate disclosures of all material terms


Be Transparent – Openly identify the nature, location, and ownership of the business, and clearly disclose all policies, guarantees and procedures that impact on a customer's decision to buy


Honor Promises – Abide by all written agreements and verbal representations


Be Responsive – Address marketplace disputes quickly, professionally, and in good faith


Safeguard Privacy – Protect any data collected against mishandling and fraud, collect personal information only as needed, and respect the preferences of customers regarding the use of their information


Embody Integrity – Approach all business dealings, marketplace transactions and commitments with integrity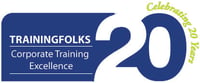 "Throughout our 20 years in business we have always been committed to adhering to these key standards of business excellence, and delivering the highest level of service to our clients to help them build a higher performing workforce," said Matthew Davis, CEO and Co-Founder, TrainingFolks. "Achieving the BBB A+ rating is truly an honor."
Need assistance with change management, custom learning or training consultation for your organization? Contact the experts at TrainingFolks today.