TIPS FROM YOUR TRAINING COMPANY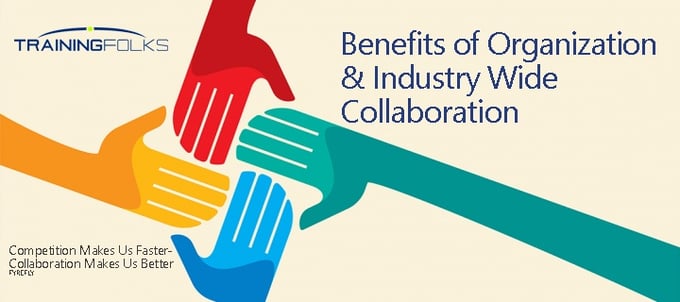 Excelling in an industry that lives and breathes learning day in and out also means understanding the intrinsic value attached to effectively collaborating company-wide. In fact, our learning experts take it one step further to ensure full collaboration with the client each step of the way as well.
While some team members may believe collaboration can actually slow down a project, when managed effectively, a project that includes the efforts of many can be completed more efficiently and with a higher success rate than those that are completed solo.
Why should you consider promoting collaboration within your organization?
Creates Personal Challenge
When working solo there's little need to articulate or rationalize competencies. When working with even as little as one other person, there is an unsaid challenge to do this and also forces each person to take a look at their personal strengths and weaknesses when putting forth ideas, feedback and overall efforts to the project.
Ensure an effective meeting with this free download on Productive Meetings 101.
Two Heads are Better Than One
When a variety of knowledge and skills are combined, it creates a talent pool that is vast and more competent, able and experienced. Taking it one step further and enlisting virtual collaboration helps reduce costs for teams working in different offices or remotely.
Manage remote employees better with these free tips to Managing Your Remote Workforce.
It Makes You Look at the Bigger Picture
No two people are the same, and when you have several people from different backgrounds working for you, you will need to know how to leverage those differences and identify how they can complement each other. You also need to understand that even if the project does not shape up the way you wanted it to in the end, the partnership could still achieve a great deal.
Download your free Cross Cultural Report Card to gauge how effectively your cross cultural team works together.
Keep Learning
When one team member shares insight, they are essentially teaching each other something new. This in turn enforces the learning culture within the organization as a whole and fosters further employee development and ongoing corporate learning. Whenever team members collaborate, they enhance their capacity to go and grow beyond their comfort zones and take your business to new heights.
In addition to collaboration in day to day operations, larger scale collaboration on an industry level is just as important. One of the best ways to do this is with industry tradeshows. While it's not the coming together of companies to complete a project, it is the coming together of individuals that deal with a specific industry to talk about the latest trends, best practices and success stories in one place.
TrainingFolks is part of the Institute for Performance and Learning Tradeshow that kicks off today at the Metro Toronto Convention Centre in downtown Toronto with the goal to do just this. This year's conference has been redesigned with attendees in mind: amazing keynotes, revealed research, interactive sessions, best-in-show awards recognition, and it's the only event of its kind in Canada where you can engage and interact with fellow learning professionals.
Speaking to this wide range of individuals is a great chance for attendees and exhibitors to talk everything in corporate learning and development and more importantly to gain further insight from one another to help them be more effective at their specific role within the larger industry.
Attendance to the tradeshow is complimentary and TrainingFolks is at booth #501.
We look forward to the collaboration of concepts, practices and industry leading practices that will make up discussions over the next two days and hope to see you there!