Top Virtual Training Classroom Platforms vILT
Tips From Your Corporate Training Company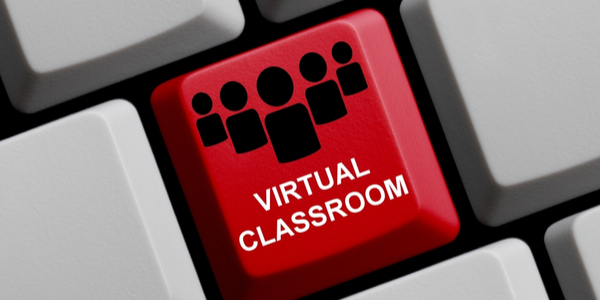 Virtual Instructor-Led Training (vILT) is synchronous learning i.e. a group of people learning at the same time and in real time so it can be interactive and participative. The key difference is that participants and instructor are not in the same physical location as with traditional classroom training. In today's global work environment with an escalating amount of employees working remotely, the need for live virtual training programs is steadily increasing. One of the most important first steps is determining what virtual classroom platform will provide the best learning experience for your organization.
When choosing a virtual classroom training platform it is best to understand the features and benefits that each product offers so you can make an informed decision that will best suit your organization's corporate learning requirements.
The following are examples of common platforms leveraged by our clients:
Adobe Connect
Adobe Connect is a versatile platform that can provide a complete solution for rapid training and mobile learning, enabling rapid deployment of training accessible from anywhere, anytime, on virtually any device.
There are the following features:
Unlimited and customizable meeting rooms

Breakout sessions within one meeting

VoIP

Audio and video conferencing

Meeting recording

Screen sharing

Notes

Chat

Enhanced whiteboard

User management

Administration

Reporting

Polling

Central content library

Collaboration builder
Highlighted feature and how to use it to increase interactivity:
You may be reading the features and nodding your head, but Adobe Connect offers some unique capabilities that if utilized correctly can increase retention rates and provide unique interactivity.
Breakout sessions: This feature allows participants to divide into smaller groups to complete a learning activity. In this group, they can share documents, collaborate, and share a whiteboard. The meeting instructor can move to each breakout session to provide feedback and increase participation (just like in classroom training).
Cisco WebEx Training Center
Cisco WebEx Training Center is a hosted online training solution that makes it easy to deliver highly effective, live instruction- to anyone, anywhere.
There are the following features:
High-definition video

Breakout sessions

Hands-on lab

Integrated testing

Polling

Real-time video and data sharing

Chats

Threaded Q&A

Whiteboard and annotation tools

File transfer

VoIP

Registration management

Instant grading and instructor scoring

Permissions-based remote control

Network-based recording
Highlighted feature and how to use it to increase interactivity:
Even though many of the virtual classroom platforms have whiteboards, not all are equivalent. Unlike Cisco WebEx Training Center, some platforms do not have participant annotation privileges which can limit interactivity.
Whiteboard: The virtual whiteboard acts just like a conventional whiteboard or flip chart by allowing you to brainstorm and take notes. Participants will see everything you write or draw and, if assigned annotation privileges participants will be able to use the whiteboard as well.
Whiteboard activity example: Have your participants simultaneously write down one word to describe their experience with vILT, or divide the whiteboard into columns to brainstorm how the training will impact the organization.
Microsoft Teams
Microsoft Teams has new innovative features that make it easier than ever to connect with your learners or team members wherever they may be. This product does not have some of the same interactive training features as several of the other platforms, but it provides a quick and easy way to reach out via video, call or IM to your learners, or team members.
There are the following features:
Teams and channels




Teams are made up of channels, which are conversation boards between teammates.

Conversations within channels and teams




All team members can view and add to different conversations in the General channel and can use an @ function to invite other members to different conversations, not unlike Slack.

A chat function




The basic chat function is commonly found within most collaboration apps and can take place between teams, groups, and individuals.

Document storage in SharePoint




Every team who uses Microsoft Teams will have a site in SharePoint Online, which will contain a default document library folder. All files shared across all conversations will automatically save to this folder. Permissions and security options can also be customized for sensitive information.

Online video calling and screen sharing




Enjoy seamless and fast video calls to employees within your business or clients outside your business. A good video call feature is great to have on a collaboration platform. One can also enjoy simple and fast desktop sharing for technical assistance and multi-user real-time collaboration.

Online meetings




This feature can help enhance your communications, company-wide meetings, and even training with an online meetings function that can host up to 10,000 users. Online meetings can include anyone outside or inside a business. This feature also includes a scheduling aid, a note-taking app, file uploading, and in-meeting chat messaging.

Audio conferencing




This is a feature you won't find in many collaboration platforms. With audio conferencing, anyone can join an online meeting via phone. With a dial-in number that spans hundreds of cities, even users that are on the go can participate with no internet required. Note this requires additional licensing.

Full telephony


That's right! The days of seeking VoIP vendors and overspending on a phone system are finally over. Microsoft 365 Business Voice can completely replace your business' existing phone system. Note this requires additional licensing.

Highlighted feature and how to use it to increase interactivity:
Chat Function: This is a great tool to use for day to day meetings, conversations and connections with your team mates. Check in to see how someone is doing, or if they have finished that project for you.
Zoom
Zoom is an interactive virtual meeting tool, that many of us have become accustomed with. Video-conferencing is the way of the future as we use it more and more. It allows personal and work calls to be facilitated over an internet connection that supports both audio and video. Zoom is widely popular because it offers users a variety of high quality features – even to free users.
There are the following features:
One-on-one meetings

Group video conferences




Host up to 500 participants (if you purchase the "large meeting" add-on). The free plan, however, allows you to host video conferences of up to 40 minutes and up to 100 participants.

Screen sharing

HD video and audio

Participant camera feed




While you do not have to share your video feed, participants can share their video. Zoom will require permission to use your computer or device camera, and will then use the camera to display video for other participants on the call.

Audio-only conferencing

Cross-platform messaging




Zoom video-conferencing can be done using the desktop client, the mobile app, and the browser client. All versions support cross-platform communication, from video, to audio, to instant messaging. App versions will automatically sync so you can access your meetings no matter how you sign in to Zoom.

Password protection

End-to-end encryption

Scheduling




Zoom comes with built-in scheduling within the app, allowing you to schedule meetings and send out invitations from Zoom.

Waiting Rooms

Personal meeting room

Meeting recordings

Touch Up My Appearance




The Touch Up My Appearance feature can be used to automatically retouch your video display with a soft focus. This helps smooth out the skin tone of your face and provides a more polished look while on video. Simply enable this setting and it will automatically work when the meeting runs.

Virtual backgrounds
Highlighted feature and how to use it to increase interactivity:
End to End Encryption and Password Protection: This is a great feature, especially for the security conscious or for those who work with sensitive information such as healthcare or the banking industry.
When conducting a live virtual training course, it is especially important to be organized during each step of the process.
Download our FREE industry leading "vILT Preparation and Delivery Checklist"