Top Virtual Training Classroom Platforms vILT
Tips From Your Corporate Training Company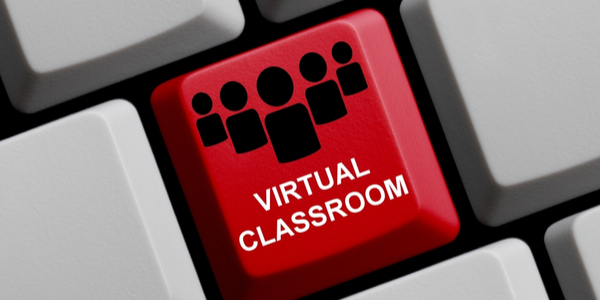 Virtual Instructor-Led Training (vILT) is synchronous learning i.e. a group of people learning at the same time and in real time so it can be interactive and participative. The key difference is that participants and instructor are not in the same physical location as with traditional classroom training. In today's global work environment with an escalating amount of employees working remotely, the need for live virtual training programs is steadily increasing. One of the most important first steps is determining what virtual classroom platform will provide the best learning experience for your organization.
When choosing a virtual classroom training platform it is best to understand the features and benefits that each product offers so you can make an informed decision that will best suite your organization's corporate learning requirements. The following are examples of common platforms leveraged by our clients (listed in alphabetical order):
Adobe Connect
Adobe Connect is a versatile platform that can provide a complete solution for rapid training and mobile learning, enabling rapid deployment of training accessible from anywhere, anytime, on virtually any device.
There are the following features:Top Virtual Training Classroom Platforms vILT
Unlimited and customizable meeting rooms, breakout sessions within one meeting, VoIP, audio and video conferencing, meeting recording, screen sharing, notes, chat, enhanced whiteboard, user management, administration, reporting, polling, central content library, and a collaboration builder.
Highlighted feature and how to use it to increase interactivity:
You may be reading the features and nodding your head, but Adobe Connect offers some unique capabilities that if utilized correctly can increase retention rates and provide unique interactivity.
Breakout sessions: This feature allows participants to divide into smaller groups to complete a learning activity. In this group they can share documents, collaborate, and share a whiteboard. The meeting instructor can move to each breakout session to provide feedback and increase participation (just like in classroom training).
Cisco WebEx Training Center
Cisco WebEx Training Center is a hosted online training solution that makes it easy to deliver highly effective, live instruction- to anyone, anywhere.
There are the following features:
High-definition video, breakout sessions, hands-on lab, integrated testing, polling, real-time video and data sharing, chats, threaded Q&A, whiteboard and annotation tools, file transfer, VoIP, registration management, instant grading and instructor scoring, permissions-based remote control, and network-based recording.
Highlighted feature and how to use it to increase interactivity:
Even though many of the virtual classroom platforms have whiteboards, not all are equivalent. Unlike Cisco WebEx Training Center, some platforms do not have participant annotation privileges which can limit interactivity.
Whiteboard: The virtual whiteboard acts just like a conventional whiteboard or flip chart by allowing you to brainstorm and take notes. Participants will see everything you write or draw and, if assigned annotation privileges participants will be able to use the whiteboard as well.
Whiteboard activity example: Have your participants simultaneously write down one word to describe their experience with vILT, or divide the whiteboard into columns to brainstorm how the training will impact the organization.
Jigsaw Meeting
Jigsaw Meeting is an interactive virtual classroom that changes the dynamics of the learning environment by offering facilitators unique features.
There are the following features:
Device checker that ensures audio and video are activated before a session, pre-set interactive review sessions, VoIP, international audio at no additional charge, testing that provides results immediately, brand customization capabilities, simultaneous multi-media, ability to stream live video or pre-recorded video, work on whiteboards and answer surveys or view the image gallery simultaneously, polls, evaluations, voting, pre & post- test evaluations, quizzes, on demand room to check active participation, automated reports, and documentation of responses during the session.
Highlighted feature and how to use it to increase interactivity:
Polls: Polling questions can be an entertaining way to engage participants during the training session. Polling can also be used for knowledge checks, to generate feedback, and to generate discussion using a variety of quizzical styles.
Polling activity example: Creating a contest is fun way to engage the participants and increase learning retention rates. The poll feature can be used in a contest by creating a "point" system where participants are awarded for getting correct answers and whichever person/team has the most points will win a prize.
Microsoft Lync
Microsoft Lync has new innovative features that make it easier than ever to connect with your learners wherever they may be. This product does not have some of the same interactive training features as several of the other platforms, but it does have browser-based access and a consistent experience on multiple devices.
There are the following features:
Microsoft Office interoperability, public cloud IM, Skype connectivity, Lync to Lync calling (Voice & HD Video), whiteboard sharing, desktop & application sharing, meeting controls, enhanced In-meeting note taking with OneNote Sharing, Multi-party video, and multi-device capabilities smartphones, tablets, and PCs ( Windows, Windows Phone, iOS, Mac, Android).
Highlighted feature and how to use it to increase interactivity:
Application Sharing: This feature allows the instructor to display their computer screen to the participants. This is beneficial when demonstrating the features of a software program or to share a website.
Application sharing example: Participants could learn how to use a new home loan calculator by watching the instructor demonstrate it on the screen.
ReadyTalk
ReadyTalk provides an effective virtual classroom platform that is easy to use and reliable. This product does not have the breakout session feature, but does provide features to increase interactivity between participants.
There are the following features:
Annotation tools, VoIP, appoint co-presenters, automated reminder emails, chat/Q&A sessions, customized branding, extensive reporting, integrated audio conferencing, interactive polling, integrated video conferencing, meeting recording, multiple platform usage (iPad only), post-meeting surveys, present slides and pre-recorded video, raise hand for participants, and recording archives
Highlighted feature and how to use it to increase interactivity:
Raise Hand: This platform does provide a "Raise hand" button for participants which can be used for participant questions, to receive a quick response from the group, or to know when to move on to new activity. This can be beneficial to the instructor by making them aware of a participant question without interrupting the group.
When engaging a vILT platform it is valuable to do your research and ask for recommendations from current users. Many of the platforms above offer free 30 day trials to allow you to test out the product before you make a commitment to buy.
Once the best platform for your organization is decided upon the next step would be to select a team of instructors to create the most effective learning environment for your employees. No matter how many features your virtual classroom platform has if you don't have an experienced instructor to conduct the training properly the learning could falter.
When conducting a live virtual training course, it is especially important to be organized during each step of the process.
Download our FREE industry leading "vILT Preparation and Delivery Checklist"
For more information on the above virtual classroom platforms please visit the following links: