So, just how effective can Virtual Instructor-Led Training (vILT) really be? Can vILT Really Be effective?
This is a rising question that training companies and learning specialist ponder over when developing their organization's learning strategies.
However, in today's global work environment and with an escalating amount of employees working remotely, the need for live virtual training solutions is increasing.
Transitioning from Classroom to vILT document will:
Give you ideas on how to take your current classroom program and transition it to vILT
Provide ideas on how to make your vILT training interactive
Provide clear and concise transition ideas
Make your current transition an easy one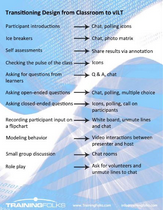 DOWNLOAD our FREE "TRANSITIONING DESIGN FROM CLASSROOM TO vILT" tool by completing the form to the right!