eLearning Maintenance Questionnaire
What is often overlooked in the rush to produce eLearning is an ongoing maintenance plan. Who will track content changes? Who will make changes? How will changes be made? How often will changes be required? What impact will this have on learners? What is the cost of maintenance? What happens when it is not maintained? Download our eLearning Maintenance Questionnaire today to:
Create a successful eLearning strategy
Reveal what questions your organization will need to answer to maintain an eLearning program
Gain industry-leading insight on your eLearning program
Improve your knowledge of eLearning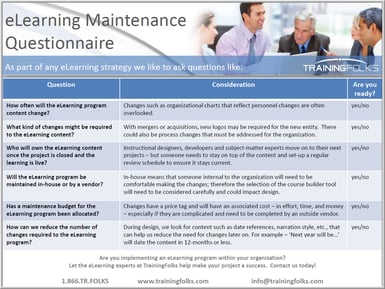 Fill out the form to the right and download it today!