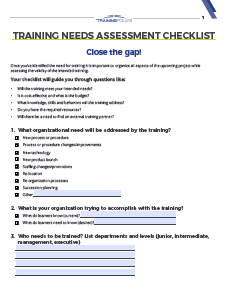 Once you've identified the need for a training program, it is important to organize all aspects of the project.
Download this helpful two-page Training Needs Assessment Checklist with 10 sections to guide you through the key training needs assessment questions to ask such as:
Will the training meet your intended needs?

Is it cost-effective and what is the budget?

What knowledge, skills and behaviors will the training address?

Do you have the required resources?

Will there be a need to find an external training partner?
Close the gap! Download the checklist now.