Using an LMS for Compliance Training
Implementing cyber security awareness training is a never ending endeavour. A good program continuously adapts to trends in the market place, changes in software and speaks to current and new employees at the level that they need to learn at.
Using an up to date Learning Management System (LMS) can bring several benefits to ensuring successful and seamless compliance training.
Training Content Availability
Your LMS offers a benefit over in-class training when it comes to delivery as well as the tracking and reporting of results. Online training also enables companies to cut down costs associated with repeated face-to-face training sessions.
Make it Personal
An LMS enables the company to provide relevant training to the right employee. When it comes to compliance and risk, redundant information can be draining as well as a waste of resources. In addition, there may be very specific areas that one employee may need or want to learn more about versus a colleague. The LMS provides personalization for each unique learning path.
Reporting Made Easy
When it comes to compliance training it is critical for the protection of the organization to ensure that employees have completed the required training. A good LMS makes this process easier to track and report on. Completion results be pulled up easily by compliance managers. In addition, employees can quickly be tracked to make sure due dates are met. In cases where compliance training hasn't been completed an LMS is able to send out notifications quickly and seamlessly ensuring further success overall.
Training Anywhere
Providing compliance and risk training on an LMS means everyone that needs to complete the training can do so, period. With organizational cultures now including work from home, remote working, shared office space and global employees, ensuring timely completion could otherwise be an issue for many companies.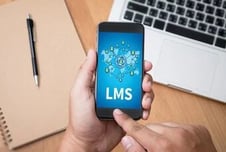 Download "Create Your Ideal LMS" to see what capabilities your LMS should offer and plan for the right LMS for your organization.
If you're currently in need of an LMS to take your learning and development programs to the next level get in touch with TrainingFolks today.