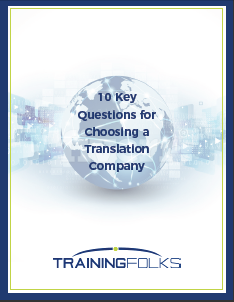 There are many translation companies out there – a quick internet search returns many pages of results. To make an informed decision, download "10 Key Questions for Choosing a Translation Company".
The list provides questions to help you determine the level of expertise of the translators and the professionalism of the company, as well as why these questions are important. You'll discover:
The difference between translation and localization
The specialized translation tools that improve consistency plus save time and money
Steps to evaluating a company's work to ensure it meets your needs
And more…
Download the translation company key questions now!