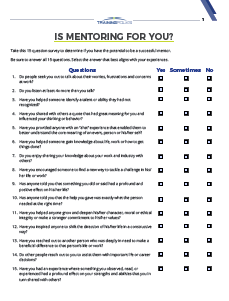 If your company has a mentorship program or is thinking of starting one, download "Is Mentoring for You?"
This short survey will help you identify the senior employees in your organization who would make successful millennial mentors.
The benefits of mentoring millennials include:

Allows them to exchange ideas and perspectives
Provides recognition and positive feedback
Develops their business knowledge and skills
Prepares them for leadership roles
Guides them on professional development and advancement within the company
Download the survey now!