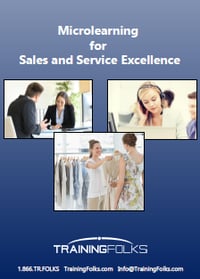 Your frontline staff are the face of your organization, representing your company and brand to the world. That's why it's critical to ensure your customer service and sales training programs are providing your employees with the knowledge and skills they need to deliver an outstanding customer experience.
Download this eBook to discover:
The benefits of microlearning and how it complements longer format training
Why microlearning is ideal for your service and sales training programs
Tips for developing microlearning course content
Get your eBook today!