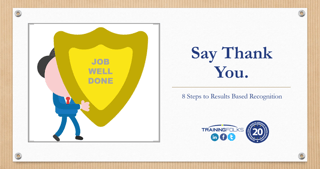 Increasing retention, recruiting top talent and building employee engagement are top objectives for many HR professionals, and are all achievable with the right employee recognition program in place.
Learn more by downloading the free eBook Say Thank You. 8 Steps to Results Based Employee Recognition.
Discover these employee recognition program ideas including:
The importance of establishing a baseline
Using your reports to review and revise the program
Best practices for effective employee recognition
Need help building or refreshing your employee recognition program?
Contact the global training experts at TrainingFolks.