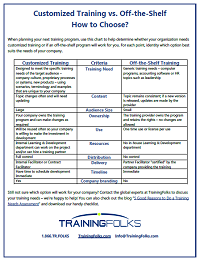 When implementing training in your organization, you can develop a customized training program or purchase an off-the-shelf course. But how do you choose?
Download this helpful guide that compares both types of training -- it will help you determine which is most suitable for your learners and will lead to greater engagement and better retention. You'll consider:
What are the training needs of your organization?

Does the training topic need to be updated often?

How much time do you have for training development?

And more...
Download your guide now!