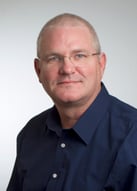 As Vice President Learning Technologies, Steve brings over 30 years in the Information Technology/Information Services (IT/IS) field to the leadership and growth of TrainingFolks' eLearning practice. His vision and thoughtful approach have been integral in crafting scalable, high impact eLearning solutions for numerous world-class organizations . Steve is passionate about ensuring that eLearning programs are designed to enhance content and engage learners in addition to maximizing learning, retention and application of new skills and concepts. As a result of his rich background in technology, Steve is always looking for new and inventive ways to leverage technology to better serve the needs of TrainingFolks' clients.
Prior to joining TrainingFolks, Steve gained extensive experience in software design and project management as a senior manager and vice president for a leading design engineering consulting firm in the U.S.
A graduate of North Carolina State University with a Bachelor of Science degree in Computer Science, Steve has focused his efforts in IT/IS infrastructure, database design and implementations, and fully customized client solutions.