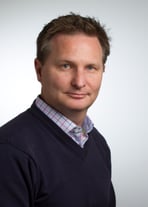 As Vice President, Global Sales and Customer Service, Owen Davis has spearheaded the expansion of TrainingFolks throughout the United States and recently into the United Kingdom. Based in Cary, North Carolina, Owen has successfully combined his passion for building strong customer relationships with high energy and creativity to develop solutions that meet clients' diverse, time sensitive needs. His breadth of experience spans a variety of industries including finance, energy, insurance, healthcare, and transportation. Owen has been directly responsible for designing innovative solutions and building diverse teams across the globe to help our client organizations rapidly implement large scale change initiatives in the areas of merger integration, technology deployments, risk management and compliance.
Prior to joining TrainingFolks in 2001, Owen held several key operations and business development positions in construction, manufacturing and technology industries. He has been instrumental in helping organizations implement large scale technology infrastructure improvements in the manufacturing, finance, retail and distribution sectors.
Owen holds a Bachelor of Science in Industrial Technology from East Carolina University and was a member of the ECU Pirate's baseball team. He has served on the Board of Directors for International Sister Cities and currently serves as the President of the Charlotte Chapter of the American Society for Training and Development. He has been published in Training and Development magazine as well as numerous business journals and industry-specific publications.