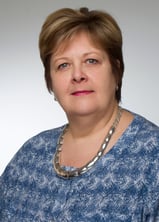 Kate Banning has been a member of the TrainingFolks team since 2004, playing an important role in its growth throughout North America and the United Kingdom. As Vice President of Financial Operations, Kate works directly with the executive team to ensure that TrainingFolks' operational capabilities are aligned with our clients' requirements in implementing large scale change initiatives. In this capacity, Kate manages the finance and audit functions in addition to ensuring that Finance Department work flows and processes support and are aligned with both the sales and service functions of the business.
Prior to joining TrainingFolks, Kate held executive financial management positions with several global organizations where she gained experience managing large scale capital cost budgets in excess of $250 million. In addition, she has been a key contributor in helping organizations with financial systems design, implementation and training. Kate has also owned and operated businesses including a chain of six diagnostic imaging facilities licensed to perform Nuclear Medicine, Mammography, and Radiology.
Kate received her Bachelor of Arts degree from The University of Western Ontario and attended the University of Western Ontario Trois-Pistoles French Immersion School. Additionally, she received her Nuclear Medicine Operator License, Ministry of Health, Ontario.