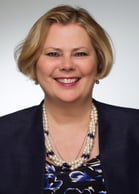 Jenny Rice is a seasoned Learning Consultant and Program Designer with over 20 years of proven experience with Fortune 1000 companies and has been with TrainingFolks since 2011.
Jenny continues to help lead clients through the optimization of their human capital for large scale training initiatives. Superior interpersonal and management skills enable Jenny to be responsive to her clients' needs.
KEY PROJECTS

Implementing New or Upgrading Existing Technology
Jenny designed a 22-day blended learning solution for a national bank with a high-level directive to improve employee retention and customer metrics. The project included the review and updating of existing source content and integrating materials into a new format and flow. The course included a hybrid solution allowing learners to be engaged in multi-platforms throughout the course. The course was implemented globally.
Filling the Leadership Talent Pipeline
Jenny facilitated operational and leadership skills training to over a dozen Fortune 1000 companies both at the senior and middle management levels. She has facilitated courses in effective coaching skills and management skills. This relates well to her master's degree in cross-cultural training as she has facilitated programs on every continent (except Antarctica).
Complying with New Regulations and Laws
Jenny designed a global eLearning program to introduce new money laundering regulations for a large multi-national financial institution, delivered to employees worldwide. This leading edge program was initiated as new legislation required employees to be proactive in this area. The training not only engaged the learner but had them apply their learning through interactive scenarios and tests for understanding.
Employee Onboarding
Jenny created a detailed strategic report analyzing current procedures and training requirements to define needs for an onboarding program for a large multi-national financial institution. This also included a large-scale needs assessment for a global supply chain management organization to identify a future state performance culture and recommend a learning architecture approach to train for best in class.
Rolling Out New HR or Cultural Change Initiatives
Jenny designed several training programs for an Oracle implementation to prepare and train all staff throughout North America on new centralized functions, roles, and newly-developed processes to completely re-engineer their business structure. This project was a strategic initiative to establish competitive levels and streamline their business practices. The outcome was a completely new way of doing business and reorganizing all business functions.
Expanding Operations or Opening a New Location
Jenny worked with a global company that was expanding operations by purchasing independent locations and integrating their systems, processes and roles centrally. Jenny developed their training program and traveled through North America to deliver the content. This involved a large systems implementation and ensuring both the systems integration and the best practices were adopted.
Jenny also exemplifies proficiency in projects pertaining to:
Post merger and acquisition integration training

Complicated operations and standards

Safety regulations and operational excellence

Leadership effectiveness and succession planning

360 executive feedback and culture strategy

Holistic approach to training strategies

Needs assessments for global operations

Cross-cultural training

International approaches to cultural differences

Project management of large-scale initiatives

Expanding operations or opening a new location
PROVEN EXPERIENCE ACROSS INDUSTRIES

Retail
Jenny has worked with a large petroleum retailer to design and deliver training to their locations globally. Jenny designed systems implementation, business practices and many other programs to support their global initiatives.
Transportation & Logistics
Jenny worked with a national transportation company to develop a senior leadership program to help the executive team work more effectively together. She facilitated the session and worked with the team through follow-up.
Professional Services
Jenny has worked with a global accounting firm developing global programs to help their employees improve performance and increase internal knowledge to follow best practices.
High Tech
Jenny has worked with high tech firms to design, develop, implement and deliver programs on a global forum. This included manager onboarding and training. This also included high potential talent and performance management systems.
Manufacturing
Jenny has worked with manufacturing operations to streamline their business practices and train their IT staff to function more efficiently and operate as one organization. This included creating a career development strategy and implementing it.
EDUCATION & ACCREDITATIONS
Boston University Brussels Masters International Business Administration (1989)

Concordia University Bachelor Business Administration (1987)

Notre Dame College Attestation d'études Collègiales Administration

(1982)

John Abbott College Diplôme d'études Collègiales - Languages (1980)

Best Internal Training II (1999)

CSTD (Canadian Society Training & Development) - OTTER Award
"I know we are all very busy with our different clients and projects. I just wanted to make sure that you know how pleased me and the team are with the work you are doing. Comments from our client, such as the [one] below, make me very happy to read and engenders trust that you are taking care of them as well as any one of us would. The calls, emails and documents that I have been privy to all demonstrate your positive, collaborative, and professional nature. You are representing us exceptionally!"

'Thanks for the planning & wonderful work you're doing. Here in Paris, the team loves it!!!'"

- Jeff St. Denis, Talent Communications & Learning Strategist, Nexus Communications