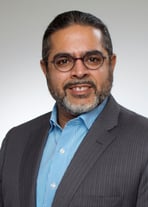 As Vice President, Learning Experiences, Haris strives to assist clients to achieve their employee performance goals by offering master technical skills in the design and development of award winning learning solutions.

Since 2003, Haris has been leading projects with TrainingFolks and combining world-class strategic and tactical experience in adult learning, interactive technology, project management and team collaboration to deliver superior training results.
Haris is an expert in implementation with a strong background in the financial service industry. He has proven experience in areas such as learning strategy and execution, learning needs assessment, change management, knowledge management, instructional design, eLearning development, and leadership development.
Key projects that Haris has been a part of have allowed him to apply his expertise to designing learning and management strategy and designing curricula in a variety of different forms of training materials, available both in French and English. He has created on-demand training for phased implementation and provided learning for senior leadership. Haris has worked on complex global projects within a variety of industries including financial service, consumer packaged goods, and cybersecurity technology.