EMPLOYEE RECOGNITION IDEAS FROM YOUR TRAINING COMPANY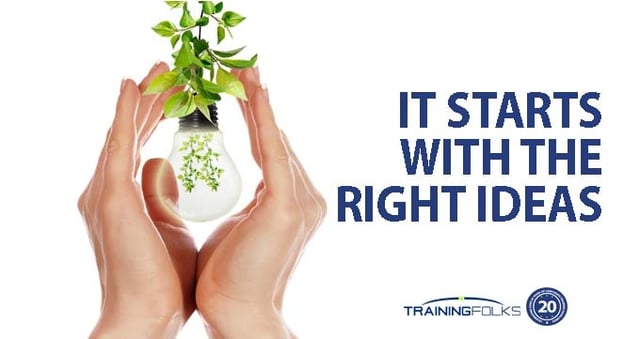 Most organizations understand that creating a work environment where employees feel appreciated and valued can help with greater employee engagement and retention of top talent, a place where people truly love what they do. Unfortunately, a recent survey discovered that employee recognition in the workplace is getting worse.
The 2017 Employee Engagement Report published by TINYpulse surveyed over 1000 organizations worldwide and found that only "…one in four employees feel valued at work – a 16% drop from last year – because managers are falling behind in their recognition efforts."1

Managers and supervisors are busy and may think that employee recognition is just one more item to add to their already lengthy to-do lists. But recognition doesn't have to be complex or time consuming. In fact, something as simple as a sincere thank you after a job well done, either personally or in a meeting with their peers, can go a long way in making the person feel appreciated.

This type of recognition is beneficial to the company because it will positively reinforce the actions, for the employee as well as for his or her colleagues, which can lead to overall performance improvements. The best performing teams are often those that feel the most valued and appreciated. Many training programs built by instructional designers will tell you this to be true as well.
Take a read through "Say Thank You. 8 Steps to Results Based Employee Recognition". Whether it's a refresh to your current employee recognition program, a brand-new initiative or an audit to see how well your program is performing, this resource provides a step-by-step framework you can follow to help you achieve success.
Employee Recognition Ideas
There are many ways to show employees they are appreciated -- determine what works best based on the company culture and the individual. Here are just a few employee recognition ideas2.
Give the person a shout-out in the weekly team meeting.


Send a short email to leadership, cc'ing the employee, outlining the challenge, actions taken and the results for the company.



Mark each employee's birthday with a cake or muffins for the team or department.

Plan a celebration at the end of a large project, when a monthly or quarterly target is met, or as a thank you for other team achievements.


Peer-to-peer recognition is also important. Have employees nominate co-workers who helped out in a significant way, whether on a project or in their daily work.


Allow the person to attend a conference or course of their choosing. This is a reward for the employee and has the benefit of discovering new and innovative ideas they can bring to their job.

If you hear a positive comment from a colleague, customer or other source, pass it along to your employee.


When a team is working on an important project, order lunch for everyone.


If an employee goes over and above in a situation, give them a gift card to one of their favorite stores or restaurants.



Highlight an individual or team accomplishment in the monthly newsletter or establish a recognition section within the company intranet.
Employee Recognition Best Practices
When it comes to employee recognition ideas, there are a few best practices:
Be Timely - Plan to recognize the individual or team soon after the action or event to reinforce the behavior.
Be Specific - Provide details about the accomplishment and why it was important to the organization.
Be Sincere - Recognition is only meaningful if the person feels it is genuine.
If you need assistance with employee recognition as part of your employee onboarding or leadership development program, contact the corporate training experts at TrainingFolks today.
1 2017 Employee Engagement Report from TINYpulse
2 HR Council of Canada